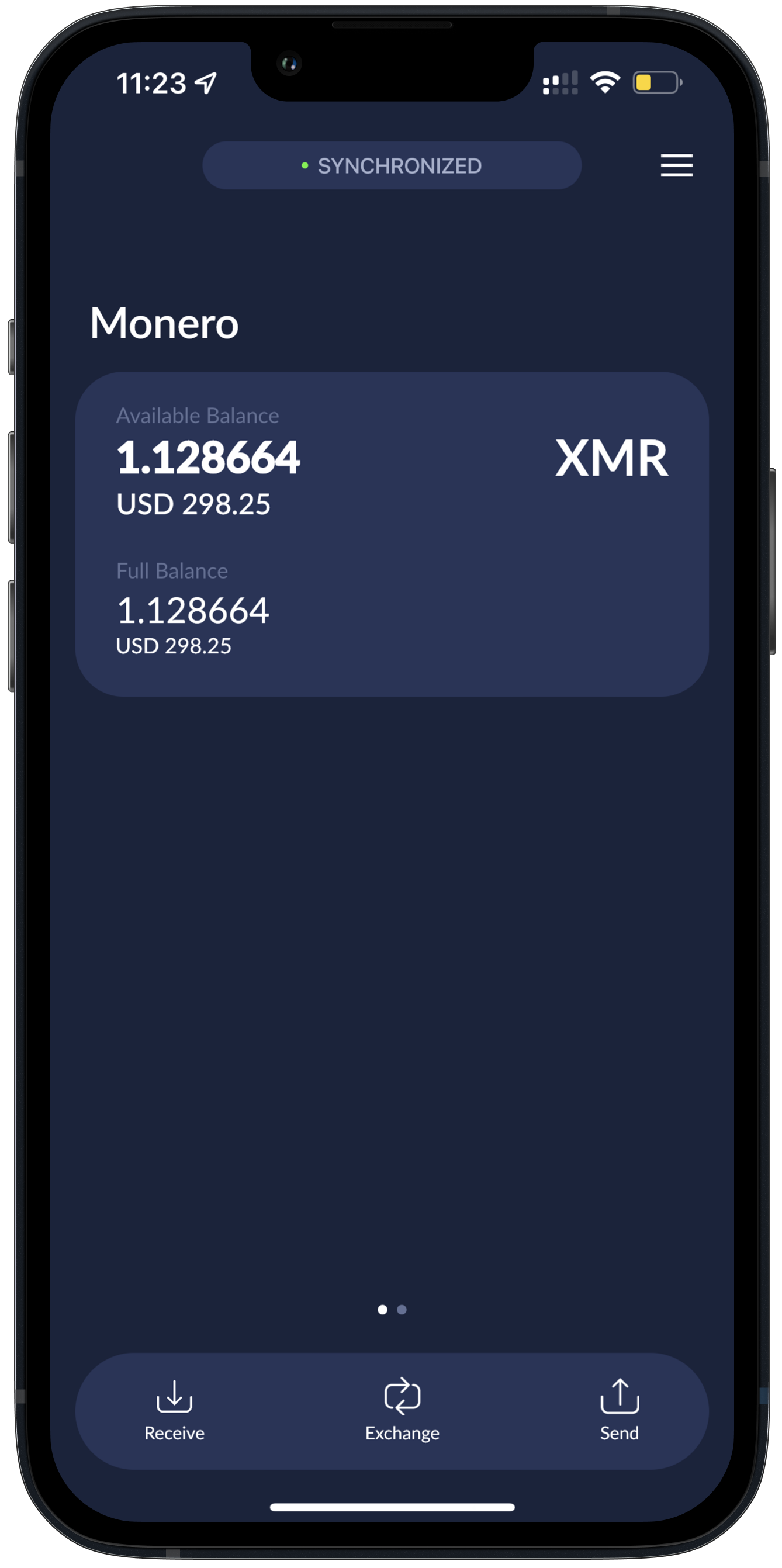 Trustless software
Easily and safely store, send, receive, and exchange your Monero. There is no intermediary in the middle to surveil or censor your transactions.
Advanced features
Full support for separate wallets, subaddresses, and accounts. Back up your wallets locally or to the cloud, and connect to remote nodes of your choice (even your own).
Non-custodial
You have complete control over your private keys and your digital assets. Your keys, your coins.
Built-in exchange
You can easily exchange XMR, BTC, ETH, LTC, USDT and many more without an account and without limits.
Open-source
The wallet was developed by our team of experts, and you are free to check our code on GitHub.
Spend crypto with Cake Pay
It's never been easier to live off cryptocurrencies!
See the latest news from the community
What is Monero?

Monero is a cryptocurrency, just like Bitcoin. Monero is an open-source software project for its own blockchain with a single token XMR. Monero is best known for its widespread privacy features. Monero is the only major cryptocurrency to hide the sender, receiver, and amount for all transactions. Privacy on Monero is far easier to achieve than privacy on other digital assets. Monero also includes optimizations for scaling and security. For example, Monero is the only major currency that people can mine with normal computers and phones. There is no company or foundation behind Monero, and the founders are anonymous. Despite this, Monero has one of the largest developer communities of any cryptocurrency.

Who is behind Monero?

Monero does not have a company or foundation behind it. Monero.com is a website run by Cake Labs, the developer of Cake Wallet. The official Monero website is getmonero.org. Like Bitcoin, Monero has anonymous founders and is entirely community-run. Developers and researchers discuss proposals in the open and are subject to vigorous community review. Monero is one of the most active open source projects in the world. The Monero Core Team maintains essential Monero infrastructure, including the codebase. All changes are publicly reviewable.

How does Monero hide my money? How does it gives me privacy?

Monero has the most complete privacy guarantees of any cryptocurrency. Every transaction hides the sender, receiver, and amount. This is enforced through strict consensus rules. Monero addresses never appear on the blockchain, ever. Instead, funds are transferred using stealth addresses. This completely prevents people from surveiling you by searching your address for related transactions. Transaction amounts are always hidden because of RingCT, which stands for ring confidential transactions. This prevents people knowing wallet balances at all using Bulletproof+ zero knowledge proofs. The source of funds spent in transactions (the transaction graph) is hidden with ring signatures, a part of RingCT. This process is completely non-interactive. Transactions appear to spend several sources of funds (including real money held by other people), without revealing the real source. Remember, the link between these sources of funds and addresses is also broken! Transactions are broadcast to the networking using Dandelion++, which makes it more difficult to determine the origin sending node. Monero software, including Cake Wallet and Monero.com, support connections over Tor as well. Every Monero transaction supports these enormous privacy enhancements without any user effort whatsoever.

How are new coins created? Where do they go?

XMR is issued to miners according to a set reward schedule. There is no premine or any other issuance. Only approximately 150,000 XMR is issued each year going forward.

How can I mine Monero?

Monero can be mined on normal computers and phones! Monero uses RandomX, an algorithm specially tailored to CPUs. You can easily mine with the Monero GUI for desktop and with some android phone apps. Mining is a competitive commodity market, so don't expect to make it rich just from mining! Many people mine to get access to XMR without needing to buy it on an exchange.

How can I buy Monero?

You can buy Monero (XMR) on various exchanges. You can buy Monero in some countries directly on Monero.com with your credit or debit card. You can also download Cake Wallet and buy BTC or LTC, then easily convert to XMR.

How can I spend Monero?

You can spend Monero at various merchants listed on our marketplace page, and you can easily spend Monero at over 150,000 merchant locations using Cake Pay in the Cake Wallet and Monero.com app!

Why should I use a noncustodial wallet?

You lose many privacy benefits of Monero if you share your transaction details with a third party, such as an exchange. It's best to hold your Monero in your own noncustodial wallet, such as Cake Wallet or Monero.com. This way, only you have access to your funds and transaction history.

Why is Monero the gold standard in private digital payments?

Monero has more private digital transactions than all other cryptocurrency projects combined. More people use Monero to transact than any other privacy coin. More people use Monero than any Bitcoin mixing service or Ethereum privacy-oriented smart contract. Because of its wide adoption and ease of use, Monero is the undisputed gold standard in private digital payments.

How can I get help with Monero?
Contact us for more information